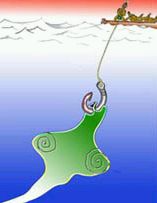 The summer learning journey gave me a link to a story about a boy called Maui who goes on a fishing trip with his brothers and fishes out the north island of New Zealand. The Summer learning journey told me to find three facts about Maui. This is what I found out.
1. Maui is a very determined boy: He is willing to do anything to prove that he can be as good as his brothers at the least he would even make his nose bleed
2. Maui Can get really angry: In the story his brothers anger him by telling him that they will not let him fish with them because he is too small but they were probably stopping him from fishing with them because he hasn't had any experience and he was younger.